WELCOME TO THE MAIN SITE OF
MOUNTAIN MIST PRODUCTIONS
WHERE WE SHOWCASE OUR MEMBERS
AND OFFER THEIR BOOKS AND ART FOR SALE.


Celebrating 13 years

Listen

Congratulations to all the
Authors and Artists who are
Members of
Mountain Mist Productions


We are proud to showcase the literary and artistic talents of our Members worldwide. Our Authors and Artists offer E-Books, Print Books, Cards, Gifts and peripherals and much more...
Mountain Mist Productions began on the Internet as an Author Showcase and as an E-Book Publisher in 2000. We now have way too much content for just one Website and we have branched out to also include Artists and Photographers as well as our Authors and Poets. We invite you to come here for our latest news as we provide a convenient launch to our other venues.
Free Greetings and Print Card Shop
Soon to launch with a new format
Oldies at Large - Vintage and Nostalgia
Keeping you up-to-date
Mountain Mist Productions News compiled by L P King

May 20th - Life is beyond hectic here and some of the Members have been having discussions about our plans and I am very grateful for their input. We have always operated on the basis that our Members know as much about what we do as do I and we vote on all the biggies and this time the level of energy is not only heartening but so exhiliarating. We've put the Ezine and the move to Claver's Landing on hold for a while as there is still a lot of groundwork to do.

Here in the cottage there is a lot of work being done whilst the weather is semi-decent and we have people coming and going during the day. I have absolutely loved the impact that little Sophie has made on people and it is great that we can share her to bring so much pleasure to people. There are some new pics and I will try and get these up in the next few days. She had her first Vet visit on the week-end and when I carried her in everyone turned around and went, "Ahhh...". Three people came over to pat and talk to her. James Herriot would indeed be proud; and that is why I need to get on and do more animal stuff.

Whatever it takes in this world... We are seeing the economic woes advance in quick procession. A trip into town and there are more empty shops, fewer people shopping and business people we talked to spoke of a lot of "doom and gloom". I have a sneaking suspicion that this time around books will not hold their usual recession-proof status. And no, everything is not OK, despite what we are being told.

But... our Members all know we will be OK. One of the emails I received for our 13th Anniversary said, "Congratulations. 13 years is quite a feat. I think being able to adapt well to different trends will keep you going another 13 years." That was nice; and I have a feeling they may be right! As you are no doubt aware, if you have read the two articles over in the left-hand column, we operate very differently to what people normally expect. We are simply showcasing some special people and if you choose to buy their work through their own links or elsewhere that is fine too. We all just enjoy being part of this family; and I feel there is a lot we can do to alleviate some of the stresses and strains people may be feeling. It is a lot of work on my part but the rewards are infinite, not in monetary terms, but in being able to enhance people's lives and to provide them with choices - or at the very least to allow them to make up their own minds on occasion.

Being part of the Mountain Mist Productions Family means we share an awful lot and over the years I have come to know the Members really well and I am honoured when they share things with me. At present our dear Shelby Forrest is struggling with some health issues so we send our positive thoughts and prayers to him. Shelby's son has been keeping me posted and for a long time now I have talked at least once a week on the phone with Shelby himself. What an inspiration he is!

Other news... Adrian Rogers knocked my socks off last week when he presented me with a new Poetry book with a definite T S Eliot outlook. And you know what that means... the more you look the more you find and so I am really looking forward to that! I think we will try and get an outside contract for that one, that's for sure - absolutely brilliant!

Congratulations to our Magdalena Ball who also has a new Poetry Anthology out with someone else. Maggie is doing great these days. I once asked her why she writes and she gave me the most honest answer, "Because I can." And doesn't she do it so well?

Celebrating a Birthday - our newest Photographer, Linda Campbell. Happies, Linda - one has to ask... When it is your Birthday, who comes up with one of those fabulous Birthday cakes for which you are so famous?

This little quiet time is actually having the opposite effect for us and some of the Members now have new contributions to come on soon. But, as I said, they really do have to list their work all over Creation to accomplish anything much in this present climate. Our very best Authors and Artists now have quite a presence and that is what will stand them in good stead and I'd like to think we can contribute to that. I really don't think many people have an idea just how bad the economic situation is and once the Australian election is over... look out, is all I can say. Good job we are who we are and we are not geared to the money-machine.

Cards are coming along nicely when I have a free moment and by the time we move to Claver's Landing that should all look pretty good. Meantime some of our Photographers are going great guns getting their outside markets in order and we intend to encourage this by raising their profiles.

Crazier and crazier for the next few days but do drop back by the end of the week - you might be lucky!

Oh, by the way - thanks to everyone who got on board to try and find little Stevie a home - I was told on the week-end that three people came forward on the same day to offer help and yes, he has a new home!


Announcing
Alive, Alaska
by Leander Beatty Jr
IN PRINT - HARDCOVER


Learn More
Support Gulargambone - small country towns deserve to survive - buy this book and you will be helping to preserve a cultural heritage.
ALL net profits from the sale of all versions of Dead Cedar are now going to the town of Gulargambone. E-Book now available and delivered via email - CD, Audio and Print Versions COMING SOON.
Please help!
Also by L P KING: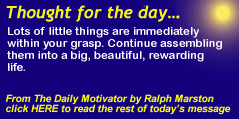 Legal Disclaimer: We do not endorse or offer any reviews or testimonials for any services, printed copy or products offered for sale by any other other Company, Shop, Website or individual outside of our own initiatives unless we expressly thus state on our own Websites, in our Ezine and/or on o
ur Recommended Reading and Reviews Pages. We take no legal responsibility for any content used without our knowledge or permission and we reserve all rights.
Our Authors have some great books for your reading pleasure. Please Bookmark our Site and come back often as we are always adding new e-books, print-books and features from our online stores where you can shop at your convenience and with complete privacy and security.
Note - Our backgrounds and graphics are either our own or are created using our software programs unless otherwise stated. The backgrounds for this page were purchased from www.grsites.com. Flower graphic from www.heathersanimations.com.
© 2000 et sequentia Mountain Mist Productions. All Rights Reserved. No part of this website may be copied by any means.